As 2020 drew to a close, Facelift's very own Johannes Schneider and Talkwalker's Ivanna Hajnecka got together to present their predictions, ideas, and strategy building experience in a webinar aimed at helping our listeners and users develop a framework for their 2021 content strategies.
If you've got an hour or so on your hands to listen to the full webinar, you can find the recording here. If you haven't got an hour or so on your hands, we've gone and summarized some key points for developing your 2021 content strategy in this article.
Content Strategy

101
There are three primary parts to developing your strategy:
Product
What exactly does your product offer customers? This seems like a pretty obvious point, but it's easy not to think about it in the right terms. Remembering that you offer a solution to a customer or potential customer's problem, not just a tangible product.
Address the pain points that your customers are experiencing without your product, and clearly illustrate what they have to gain when they try out your own product or service.
Company
What are you all about? Not only do you have an awesome product, you've also got a stellar company, right? So why not capitalize on that brand. What are you and your employees passionate about? What do you want to talk about, and what are some things that you really and truly excel at that set you head and shoulders above your competition?
Take advantage of your own good name by building a strong and positive presence for yourself online.
Relevance
To whom do you matter? Answer the questions: What does your market segment look like? What is important to them in general?
Then, based on that: What matters to them right now? This is basically the train you're going to want to hop on to be part of the conversation – a narrative you control!
Develop a content strategy bearing all of this in mind. Connect your product to its users, keep an eye on current trends, and think of ways to connect everything together.
Initial content ideation
Now that we've established these basic points, we can get to work building something specific!
The content ideation process looks a little bit like the scientific method. You begin with defining your goals, exploring your performance and options and then bringing your idea to life. Depending on its success, you then re-evaluate the execution of your strategy.
Content ideation: process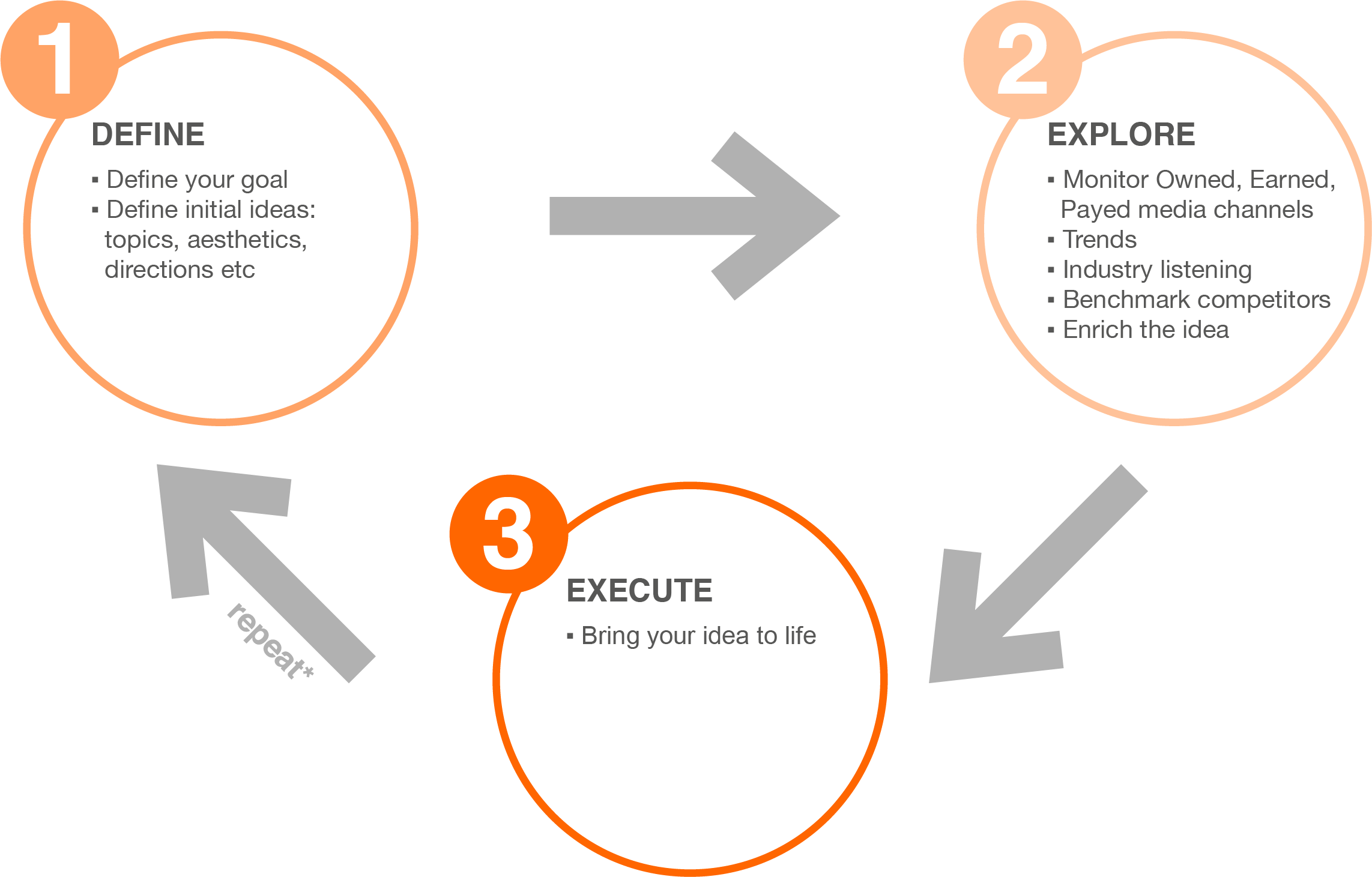 Knowing the market segment of your products or services is essential to determining the strategy you wish to pursue. There are many ways by which you can discover the right trends and topics for your needs, but some of the most useful can include:
Conventional

sources
:
Search engine queries and alerts

Monitoring social media platforms

Traditional media monitoring (TV, newspapers, books, etc.)
Unconventional

sources
:
Alternative search platforms (Talkwalker's Quick Search) and predictive alerts (Talkwalker Alerts)

Trends (short term, native channels; industry trend reports etc.)

Image and video monitoring and recognition

Dynamic word clouds featuring trends based on search terms (Talkwalker)
Trends as inspiration
It should go without saying that one of the best ways to glean content information for your strategy is to follow current trends. By keeping up on what everyone is talking about, you have the opportunity to dive right into a conversation that's already happening and establish yourself as a thought leader in something people obviously care about.
One example is nostalgia marketing.
If people didn't love a good throwback, we wouldn't still be holding decade-themed parties, holding on to our Slinky collections, or appreciating the aesthetic of Netflix's Stranger Things.
But how is this relevant to content strategy? Positive reinforcement is helpful for instilling any message in peoples' brains. Whether it's education or marketing, your goal in this instance should be to create strong, positive emotions that can be connected with your brand or products.
This sentimentality not only gives you a great new angle around which to construct great content, it's also perfect for reaching the people you want to talk to.
Here are a few of 2021's greatest trend forecasts, as determined by Hubspot and Talkwalker:
Social Media Trends 2021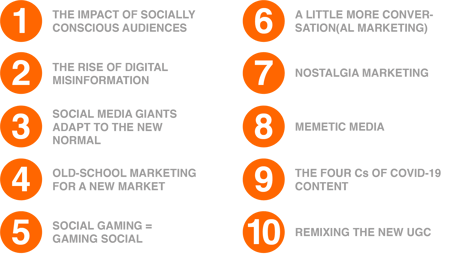 But how, though?!
In order to capitalize on these trends for your content strategy, you need to, naturally, know your audience. Do this by digging for data from every source you have, revisit your existing product catalogue for items that could be a great fit, and definitely try engaging with retro influencers.
Part of what we love about these flashbacks is not necessarily that we would prefer a return to the old ways – we wouldn't. If we wanted to go backwards for real, we wouldn't be constantly innovating. Instead, people love seeing how far we've come. Throwbacks remind us of things, people, or times in our pasts that we enjoyed.
Remember: the customer is always right, even when they're not.
To summarize this extremely quickly: you need to know your customers! In order to take full advantage of the trends they follow, you need to understand the conversations they're having and figure out how they're relevant to you.
After you know why, integrate your consumers' motivations and needs into your content strategy for 2021, or any year! Having this information will help you navigate the digital landscape with ease.
From inspiration to implementation
Remember, we've established the three parts of our basic content strategy: your product, its relevancy, and your company. So, now we need to go about connecting these things together into something truly inspirational that will have all of your competitors in awe!
In order to do this, let's focus on the following:

Connect with a customer's pain points.
In essence, this means that your customer has a problem that they need solved – a problem to which only you have the answers. Your content should answer their questions and guide them towards your mutual goals.

Try nostalgia marketing.
Reminisce about the "good old days" alongside your existing or potential customers. This kind of marketing ties in well with pain points. As the world changes, so too do our processes, technologies, and ways of thinking. These changes can themselves be pain points, and your content strategy is there to connect the past with the present.

Be a pro!
What do you and your teams do really, really well? You're the best in your field and you need everyone to know it. Your content strategy for 2021 needs to reflect this in every way possible. Be a thought leader, be a product master, and optimize your content to highlight your brilliance and authority.
Oftentimes, the best content strategy is one that is simple in nature. By tying these three items together, it is hard to go wrong. If it better suits your needs or you think it sticks more accurately to current trends, you can even replace nostalgia marketing with other forms, such as FOMO (Fear Of Missing Out) or current events, among others.
Putting it all into action
With all of this in order, it's high time to throw everything together, hurl it at the wall and see what sticks, right?
Kind of.
That metaphor doesn't quite take into account how targeted your content campaigns will be, the accuracy of your data, or the quality of your composition. If all of these items are top-notch, hopefully you'll see more stick than not.
But, regardless, your strategy should be repeatable. If something's not working out, pinpoint the problems and make changes until you're working with a well-oiled machine. If it is working, don't stop!
You can keep an eye on the performance of your campaigns, and gather some information about current trends by taking advantage of Facelift's Cloud services. Our software provides the tools you need to streamline your new 2021 content strategy on social media, all while keeping an eye on the latest digital goings-on, no matter your niche!
Once again, if you've got the time and are looking for more information, please go take a look at the full Talkwalker/Facelift webinar, which you can find right here. We'll explain each of these points in much more detail, and hopefully give you some inspiration that will really get the ball rolling this year, and every year to come.
---



Who are we?




As you likely know already, Facelift Cloud is a multi-certified software solution that features all components necessary for professional social media marketing at enterprise level. It operates across all platforms and allows users to publish, manage advertisements, analyze content, and engage with your communities.
Talkwalker is a digital listening and analytics platform that empowers over 2,000 brands to optimize their digital strategies by understanding conversations at scale. Talkwalker's state-of-the-art tool employs artificial intelligence to analyze and monitor online conversations in the form of text, image, video and more, in real time through social media, news, blogs, forums, among others, in as many as 187 languages.