More Intuitive, Tidier and, Above All, Faster Post Creation
Posted at 15 of April, 2021
Back to Blog
The heart of social media management - creating & publishing posts

Clear planning, creation and posting across all relevant networks is a crucial point in any social media strategy.
In doing so, it is always important to answer the question: What goal are we pursuing with our posts; which purposes do they serve? Are they increasing the awareness of my brand? Turning customers into ambassadors? Increasing conversions and improving customer loyalty are aspects that flow into the choice of suitable networks and editorial planning?
And then there is also the question: how often and at what time should I post on which network?
There are a lot of things to consider when it comes to social media posts, which makes it all the more important that the creation process for all your relevant networks is intuitive and efficient.
We can't make your content for you, but we can help out with that efficiency with the improved post creation process in Facelift Cloud!☝🏼


What have we improved for you?
We have given our post creation process a significant overhaul based on your feedback and desires!
You can now create posts faster thanks to a cleaner workspace, instant post previews, and fewer clicks needed to schedule. Naturally, you can still do everything you did before, just better and more intuitively.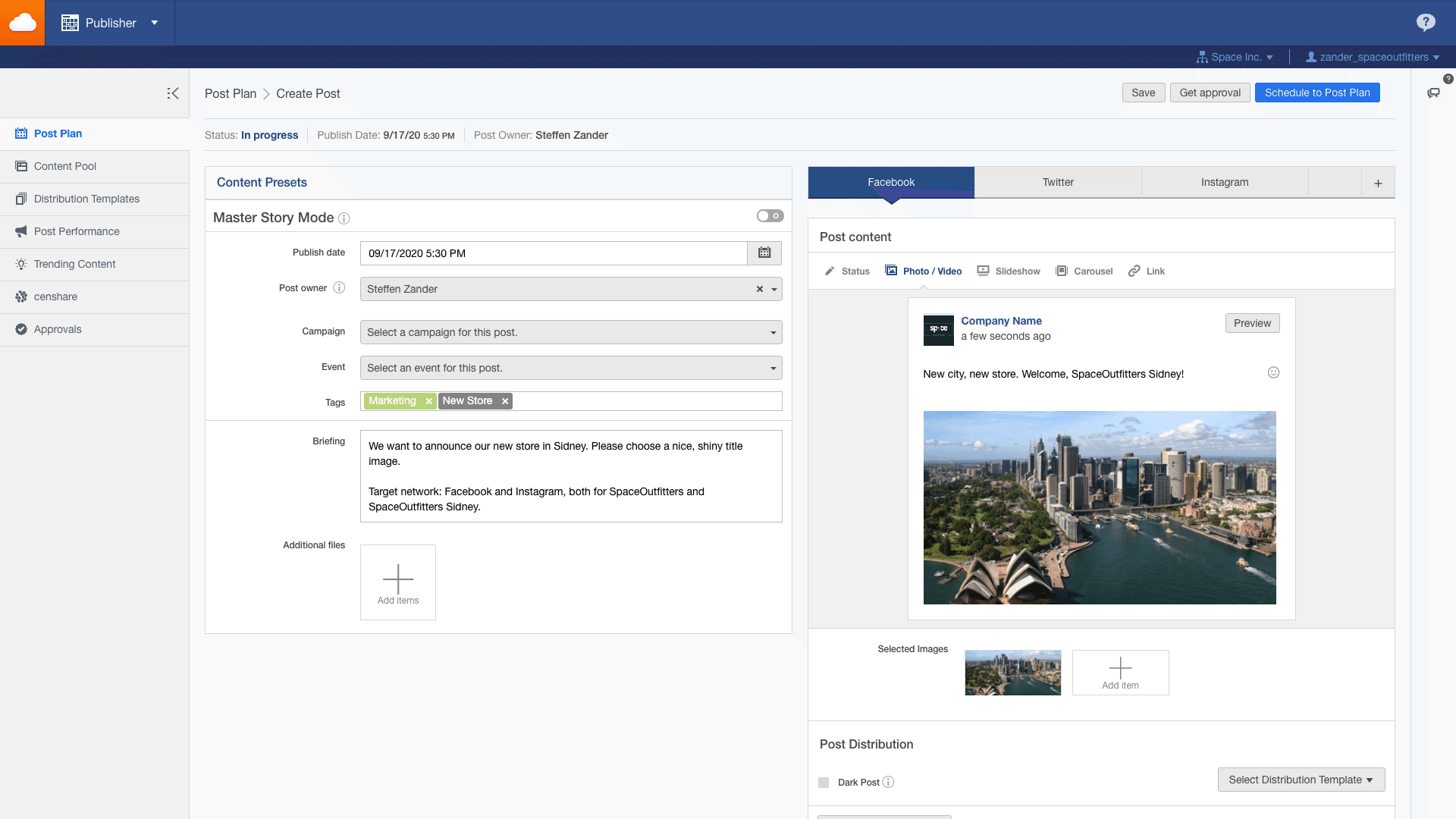 The main changes are the re-arranged areas which make an **easy 1-2-3 process** possible.
At the top you'll insert your basic settings such as title, date, campaign and tags.
In the main working area, you'll create your post with less clutter and immediate previews. At the bottom, you'll find advanced settings for targeting or branded content.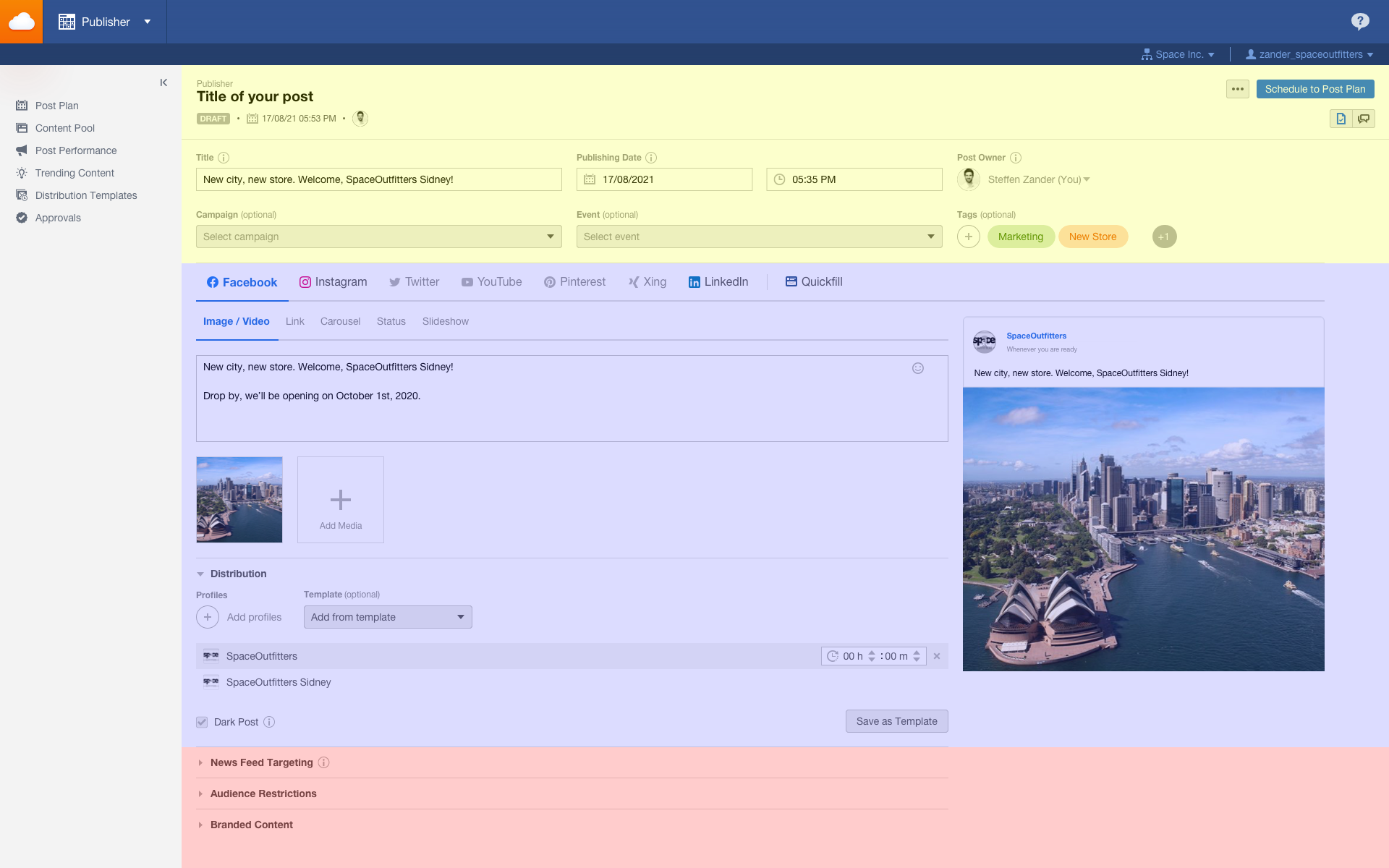 To free up space and promote accessibility, we have moved the briefing section into the sidebar where you can have it permanently open without distracting your workflow.
It was also time to retire our master story mode. It is now called quick-fill and located on the very right of the network tabs. You can still use it to copy content to any channel. However, we've discovered that most users do not do this anymore as networks have become more specialized in their content needs.
Less need for cross-network posting means less prominent positioning of the quick-fill function.
Last but not least, we're happy to announce we've taken care of a major pain from the past: losing your creation progress!
Anything you input will now be saved on the device you're using automatically. This means you can continue working later on the same machine, even though you might have logged out without saving reloaded the page.
As a bonus we've enabled campaign and event filters for the calendar - so you can see all posts assigned to a campaign or event.
More details on the improved post creation can be found in the knowledge base.
Post creation in detail
May you only create great posts henceforth! 😉
Did you stumble across this article and aren't yet a Facelift Cloud user? Do you want to be? We've got a free 2 week trial that you can test out. It includes our core features and can provide you with a great overview of what you can expect.
Liebe Grüße
Rike
Product Marketing Manager
{{#imageUrl}}
{{/imageUrl}}
{{title}}
{{description}}
{{#tagList}}
#{{name}}
{{/tagList}}
{{readArticleButton}}