We'll Keep Count for You: Instagram Hashtag Counter for First Comment
Posted at 24 of September, 2021
Back to Blog
Hashtags: they're still one of the best possible ways to get your content seen by the people you want to target the most. If you've been using them (and you should be!) You already know the Instagram hashtag and character counter in Facelift Cloud.
Not long ago we released our Instagram First Comment feature, which we hope you keep on using heavily🚀 ! As we said then in our update on the first comment, hashtags in the first comment help you to achieve a clean feed and a boost to your organic or paid reach. So, you should definitely be taking advantage of this opportunity and planning effective hashtags for your company.


Now we've gone and made it even easier! We'll count the hashtags for you. 🧮

You already know our about counter for the hashtag limit of 30 and 2200 characters, which was related to the caption of your post. Of course, we would like to save you some time and take the manual counting away from you during the creation of your post. That's why we have now also integrated the counter into the first comment.

What needs to be considered?

Please note that the limit of 30 hashtags refers to the entire post. This means that the caption and first comment together may contain a total of 30 hashtags. The counters in Facelift Cloud will, of course, display this for you.
The situation is different for the characters. Here you have 2200 characters available for each - but our counter knows that too.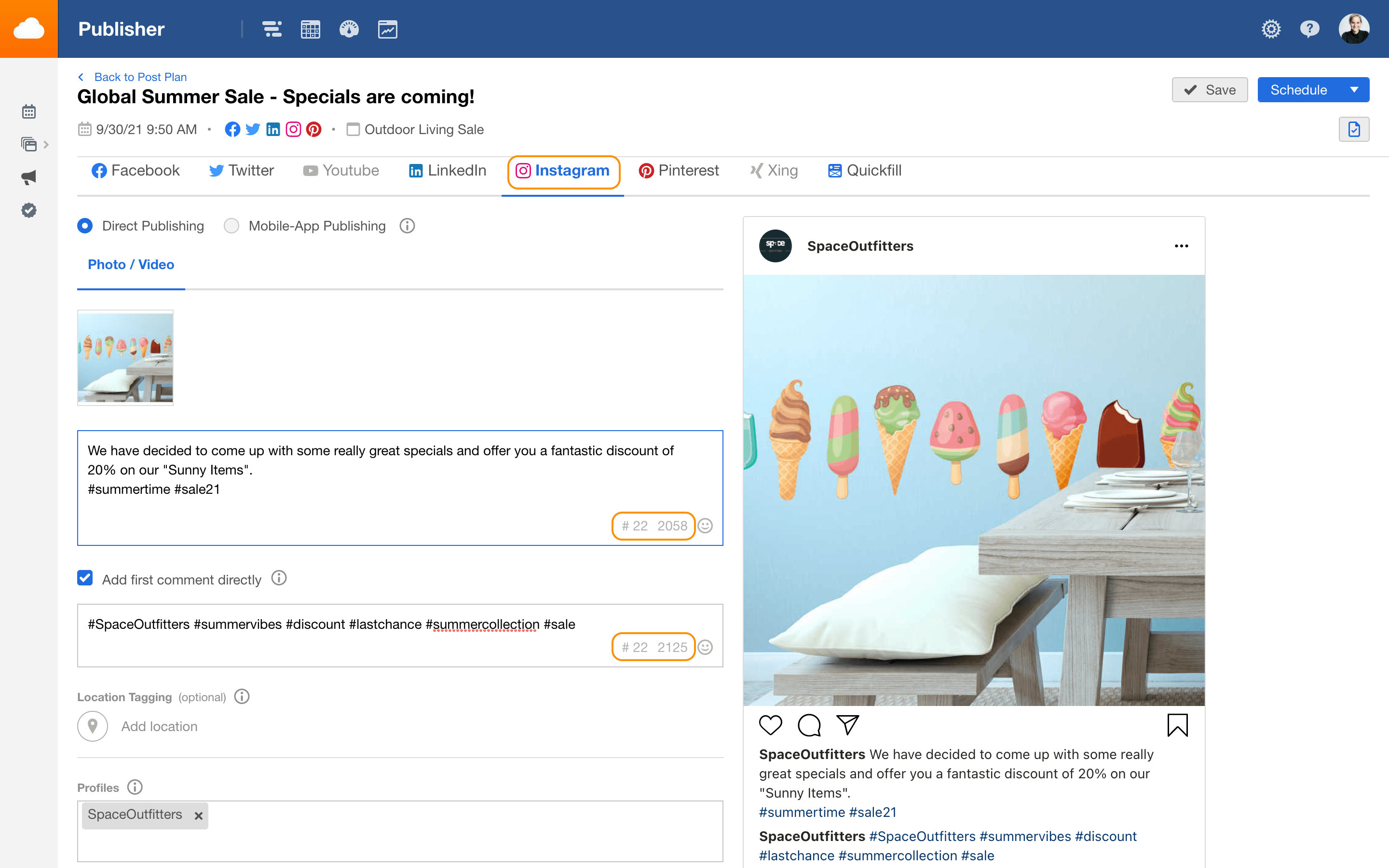 Now you know the latest counter news and can plan and publish your next Instagram post even more quickly - let's go! 🙆🏼


Did you stumble across this article and aren't yet a Facelift Cloud user? Do you want to be? We've got a free 2 week trial that you can test out. It includes our core features and can provide you with a great overview of what you can expect.
{{#imageUrl}}
{{/imageUrl}}
{{title}}
{{description}}
{{#tagList}}
#{{name}}
{{/tagList}}
{{readArticleButton}}