Increased Reach and Improved Look & Feel for Instagram posts: Instagram first Comment
Posted at 8 of June, 2021
Back to Blog
Hashtags are one of social media's most powerful, yet often-overlooked tools. Their use has become something of a delicate science and certain platforms, such as Instagram, would not function the way they do without hashtags.
If you want to make your Instagram posts attractive and avoid overloading the caption with hashtags, we've got you covered!
Relevant hashtags generate reach and thus increase the likelihood of engagement from your target group. That's why you can now schedule a first comment together with your Instagram post directly in the Facelift Cloud Publisher so that it goes live simultaneously with your post!
What are the advantages of the first comment feature?

Above all, you save a lot of valuable time! Because by scheduling the first comment directly when creating the post, you get rid of the editing and inserting of a separate comment later on.
Your "hashtag clutter" is simply placed in a first comment when the post is created and makes room for your caption to shine. Gone are the days of chaos directly under your image - your feed looks way better with maximum clarity and tidy posts!
Larger brands in particular, with a high number of followers, benefit from the placement of their hashtags in the first comment thanks to an increase in the average reach.
Of course, you can also use the first comment for other purposes and let other content speak for your images in the form of text. For example, a question or statement in the first comment can stimulate an exchange with the community and increase the engagement.






How does the first comment function work in Facelift Cloud?
The first comment function is available for direct publishing via Instagram in the Publisher.
If you want to use the function, you can simply tick the first comment box and enter your content.
Of course, this is not mandatory - it's up to you if you are going to make use of the function. No tick - no first comment.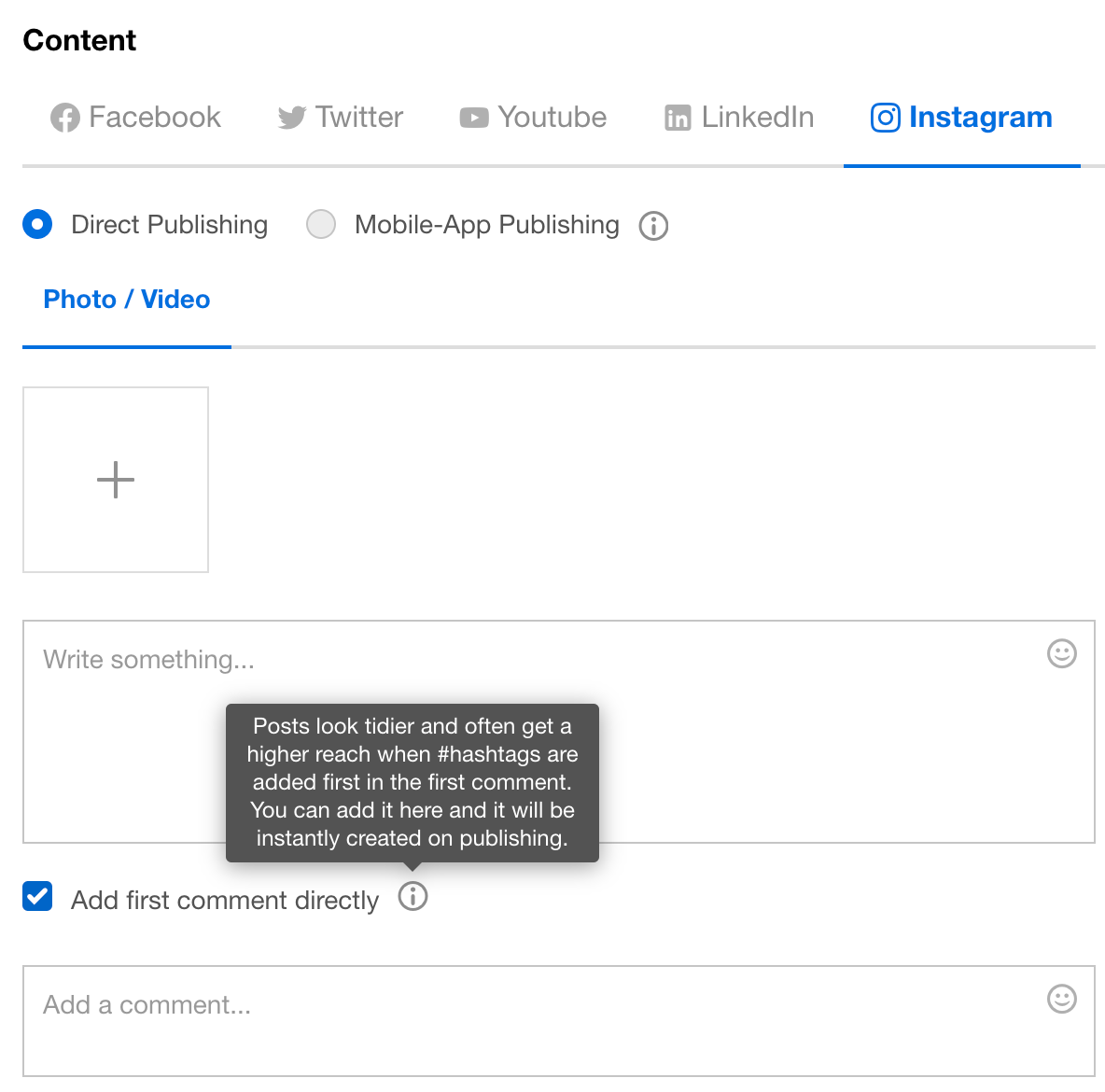 Since the maximum number of hashtags per post is still 30, it is important to choose relevant hashtags wisely. By scheduling them directly when creating posts, you have enough time to develop an efficient hashtag strategy in advance.
One tip for hashtagging in general is to create a document for your social media team that contains a large list of hashtags. This list could include a few key tags, or dozens as you see fit. You can switch out the best hashtags for Instagram depending on need. Some posts will perform better with certain tags than others. Your list can also be used on LinkedIn, Twitter, and even Facebook. When needed, simply copy and paste this into Facelift Cloud when it's time to schedule a post.

Learn more about Instagram publishing in this Knowledge Base article.

#️⃣ happyfirstcommenting
Did you stumble across this article and aren't yet a Facelift Cloud user? Do you want to be? We've got a free 2 week trial that you can test out. It includes our core features and can provide you with a great overview of what you can expect. 
Best 👋🏽
Rike
Product Marketing Manage
{{#imageUrl}}
{{/imageUrl}}
{{title}}
{{description}}
{{#tagList}}
#{{name}}
{{/tagList}}
{{readArticleButton}}