It's that festive time of year again and Christmas is right around the corner. But hang on, are you really prepared? Have you bought all your presents? Do you have all the ingredients for your family Christmas dinner? Have you sent all your cards? And are your social media profiles full of festive content? The following tips help you to ensure that your channels feature content that achieves plenty of visitor engagement in the run-up to Christmas.
Decorate your profile
Get your followers in the mood for Christmas by adding some festive touches to your profile. Give your cover photo or profile picture a new Christmassy design. Use your images to wish your users a merry Christmas, a wonderful festive period or a happy New Year. Show them pictures of your employees, for example in front of a decorated Christmas tree or dressed up as Santa, or choose suitable images from stock photo providers.
This is the perfect way to kick off the Advent period! There's also much more that you can, and should, do, especially given that profiles now tend to be visited less frequently and cover images therefore often remain unseen. Despite this, when a user does make it to your profile, it's always better to greet them with an attractive 'well-decorated home'.
Go live!
The fact that videos published online tend to attract more attention than photos should no longer come as a surprise. So why not incorporate one or more live videos into your content planning for the run-up to Christmas? Live videos on Facebook, Instagram, YouTube or Twitter are excellent for immediately achieving strong social media engagement.
What's more, they really are well worth the effort: Facebook Live videos generate six times as many interactions as regular videos and receive ten times as many comments.
Be it recipes or tutorials, there are no limits to the creativity that you can use when making your videos. Show your followers fun ways to decorate biscuits or explain to your fans how they can quickly and easily make impressive last-minute gifts. Encourage your viewers to answer quiz questions or ask questions that will attract comments. Doing so will increase the interaction on your page and make your followers feel involved in the live video experience.
Let your community decide
Set up a new vote every week and ask your followers to make a choice, for example between two of your products, and write the reasons behind that decision in the comments. You can also choose products connected to Christmas such as Christmas hats, candy canes, gingerbread figures, etc. Make sure that the votes are relevant to your target groups.
Voting functions are not only available on Facebook pages, but also on Twitter profiles or in Instagram and Facebook stories.
Organise competitions
One of the easiest ways to generate high engagement over a short period of time is to use competitions. However frequently you choose to host a contest, be it on a daily basis or every Sunday of Advent, your prizes will put a smile on your followers' faces and you can make the most of their interactions. Be sure to offer prizes that will be particularly well received among your target group.
Let's take Facebook as an example: Here you can use the approach of "likes and comments lead to prizes". Encourage your target groups to:
like a post
comment on a post
like and comment on a post
Our tip: If you don't expect too much from your participants, more users are likely to enter your competitions.
The run-up to Christmas in 24 posts
A more complex and time-consuming tool that is very popular among users is publishing an Advent calendar. You can either use a series of different posts starting on 1st December and ending on 24th December or opt for a programmed Facebook tab.
Ideas for Advent calendar content
Tell the story of your products in 24 chapters
Present 24 facts about your company
Offer a downloadable Christmas wallpaper
Post a public (shared) Christmas playlist
Share Christmas recipes, tips, fun facts or DIY projects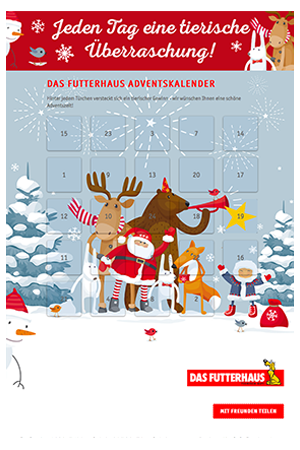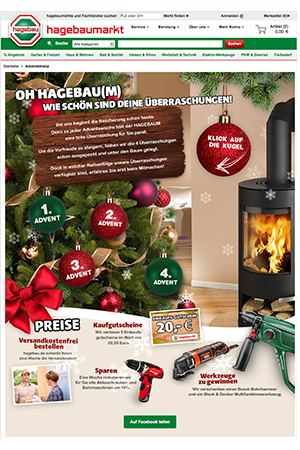 Use a good mix
If you have planned to host several competitions, make sure that they all have different creative highlights, not only in terms of the prizes offered but also how the winners are decided.
You could, for example, organise a caption contest in which you post an image and ask your community to come up with their own captions.
Another option would be to post a mystery question about one of your products. This gives you the opportunity to also generate conversions to your website, where users will need to search for the right answer.
You could also post a hidden object image containing lots of hidden products and ask viewers to guess how many products it contains and post their answer in the comments.
Stick to the rules
An important requirement for all competitions is that they comply with the Facebook Promotion Policies. Do not ask participants to share your post to attract more entries and do not tell them to tag other users. Last but not least, you need to ensure that your participation and data protection conditions are clearly and distinctly presented within your competition post. Your users will therefore know immediately what they can win and what you will do with their personal data.
Launch a challenge
Another way to increase engagement with your brand is with user-generated content. The term user-generated content refers to images or videos that are created by users rather than the brand itself. The corresponding brands often then use this content for advertising purposes on their social media channels.
You can access this content by encouraging your community to participate in a challenge (e.g. sharing selfies or photos/videos of their weirdest Christmas present). To take part, users should post a creative image on their own Instagram profiles using a hashtag specified by you beforehand. You can then select the top ten images and ask the community to vote for their favourite – the photo with the most likes is the winner. This approach is ideal for generating a feeling of togetherness within your community.
The likelihood that users will produce content for a challenge is higher when the promotion involves a competition. The better the incentive, the more likely users are to participate in your challenge. In this case, it is yet again essential that you specify your participation and data protection conditions.
However you choose to plan your content in the run-up to Christmas, we hope that you will have lots of fun and plenty of success!