Instagram remains one of the biggest growth areas in social media. And within the platform, Instagram Stories is one of the most popular features. Users love creating them, watching them and sharing them. This means creating Instagram Stories for business is an excellent marketing opportunity. So, how do you approach it strategically?
Instagram stories strategies
As with any social media efforts, you definitely want some strategy involved with your Instagram Stories. This helps you to focus efforts on creating content with a clear aim.
Show creative process
If you want to build trust with your audience then you can create a Story that shows the creative process involved in the business. This doesn't need to be technical – it could be shots from the content planning meeting or an actual video of how you make your products.
Kiko Milano showcase their process in their Instagram Story, showing models involved in shoots to showcase their beauty products. Text overlays are used to highlight the account.

Image source: Kiko Milano Arabia Instagram


Special Offers
Stories can be ideal for promoting a special offer because their natural time limit adds an element of scarcity to what you create. You can add a "promotional code" to the Story that is only valid for its 24 hour lifespan. You can direct them to the link in the bio and then drive traffic to a specific landing page on the website to view the offer.
Wojooh Beauty is one example of an account that uses this type of Story well – by having text overlays on that showcases their offer and how long it lasts. By keeping it as a pinned story on their account for the duration of the offer, this also makes it the first thing visitors to the profile see.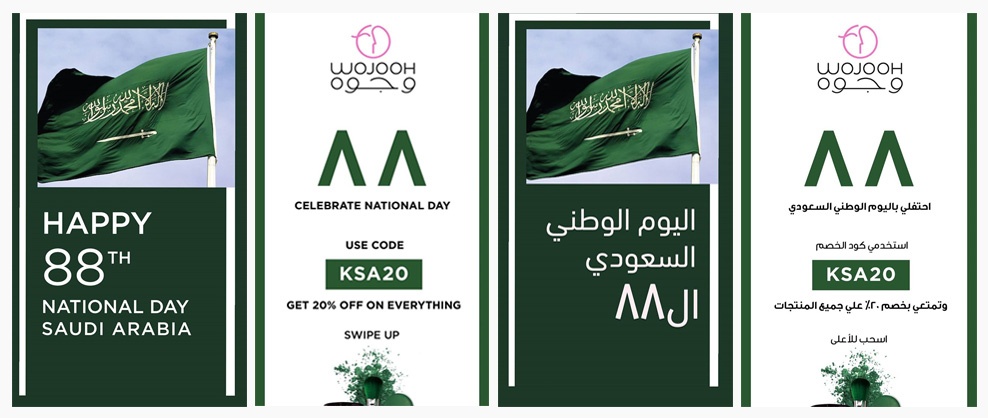 Image source: Wojooh Beauty Instagram


Make connections with your audience
Sometimes the most popular Instagram Stories are the less scripted and polished ones. The platform has casual, personal vibe to it and if you can create this kind of content for your Story, you can make a connection with your audience.
The Mall of the Emirates used their Instagram Stories to highlight how the centre is about more than just shopping. Their #MOEactive Story shared keep fit activities taking place in the centre and is one of a series of Stories highlighting events and activities taking place.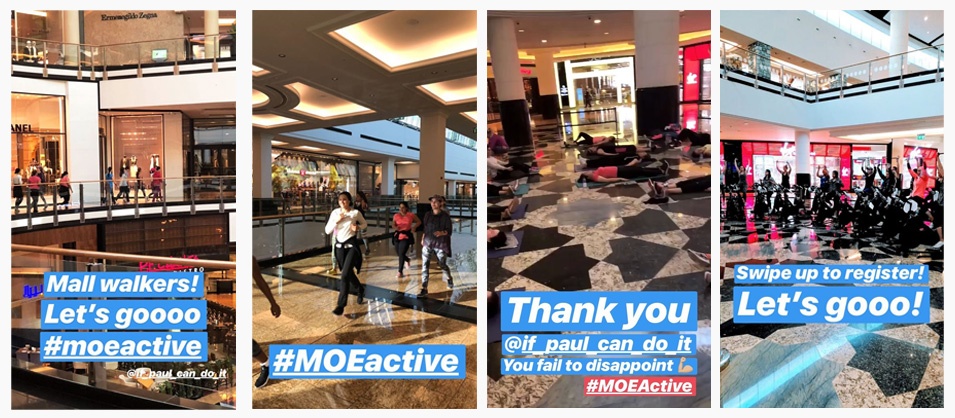 Image source: Mall of the Emirates Instagram


Do an Instagram Takeover
A takeover is where you either takeover someone's account for a 24 hour period or they take over yours. These are a special type of partnership that introduces you to each other's audience and spread the word of what you do.
Beauty giant Maybelline were one to have a successful Instagram takeover when teen influencer Jordyn Jones took over their Story and gave an insiders view into the New York Fashion week. This means that the brand reached a new teen audience while the influencer was showcased to Maybelline's followers.
Why your Stories might not succeed
Just creating Instagram Stories for business doesn't guarantee success. Even as popular as they are, it is still possible that your Story fails. There are a few common reasons why Stories don't take off:
1. The images or videos aren't great – whether this is quality or composition, if you don't have the right visuals, your Story won't take off.
2. There's no text to create meaning – don't make something that looks nice, but no-one knows what it is about so make sure you use text to give the content meaning.
3. You are being too "corporate"– even if you are working for a big, multi-national corporation, the idea of Stories is to make a more personal connection so avoid those super polished, very corporate approaches.
4. The final reason that your experience with Instagram Stories for business might fail is that you have chosen something that isn't authentic or valuable. Kendall Jenner's Pepsi commercial was one example of a truly terrible bit of advertising because it was fake, and people realized it immediately. If you don't offer value and the content isn't genuine, then Instagram audiences are quick to pick up on this.
Tried and tested
The great thing about Instagram Stories is that they only last for 24 hours but you can still get information about them. Instagram Story analytics are available through the mobile device and help you see what worked and what didn't. Then you can tweak it and try again – armed with data from each effort to continually improve your content.
While Stories may last just 24 hours, it is also important to plan ahead when creating content. While spur of the moment Stories are popular, you also want to consider planning content. Look at when your audience is active but also look at things like holidays, events or even trends and see how you can use these to plan ahead for some of your stories.
There's no doubt that Instagram Stories for business is a key part of your content marketing strategy. Look for what your audience responds to, what competitors are doing and find your own niche.
What are your biggest social media marketing challenges?
Feel free to reach out to us or experience the Facelift Cloud live during a free 30-minute demo.