On Wednesday March 17th, Facelift was proud to host our Facelift Social Network Sessions 2021 digital event. Our sessions included speakers from the world's leading social media networks and we've got some insights and key takeaways that we'd like to share.
Oh Snap! What a Year – Summarizing Snapchat at Facelift Social Network Sessions 2021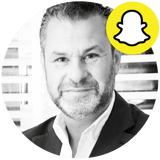 Snap Inc.'s Götz Trillhaas put on quite the presentation during his session at FSNS2021. Snapchat has been a pioneer in digital ephemeral content. Snaps are short graphic-based content pieces that are shared with a user's followership.
What sets Snapchat apart from some of its peers, such as Instagram or TikTok, is the temporary nature of content. This has a broad appeal among users, especially those seeking what is perceived as a safer alternative to other channels.
In fact, Snapchat is behind the push of other social media giants such as Instagram, Facebook, LinkedIn and most recently Twitter pushing for their own ephemeral content – stories.

A picture is worth a thousand words
The first and perhaps most important takeaway from this session is the identification of the Snapchat generation.
So, who are the "Snapchatters?"
As of 2021, there are over 330 million global users sharing their lives via this content platform. Generations Z and Y are leading the charge and their preferences, desires, and worldviews are significantly affecting business, commerce, and even politics and society as a whole.
Of this group of young Snapchatters, almost all of those studied by Snapchat preferred to communicate using visuals rather than with words, a fact nearly all major social media platforms have embraced and are working to capitalize on.
Among the most common reasons for Snapchat's popularity among younger users are:
Ephemeral content (temporary) is perceived as safer and offers more privacy.
Users feel that it is a more personal channel and are more likely to be influenced by their peers than they are by celebrity influencers.

More than half of Snapchatters feel responsible for changing the world.

A lack of public comments reduces trolling and unwelcome interactions.
What does all this mean for businesses?
This is the next big generation of consumers and their buying decisions will shape global markets for decades to come.
As such, some of the benefits that Snapchat has to offer include:
An emphasis on AR innovation that is unrivaled among competitors. Snapchat is indeed leading the augmented reality revolution for social media.

Over 200 million daily AR users

Discover has become a leading mobile entertainment platform and is the perfect way for companies looking to angle their content to Gen Z consumers.
An organic style that humanizes a brand making it more relatable and interesting than traditional advertisements
Snapchatters belong to a generation of unbelievably powerful socioeconomic change drivers, and the platform itself offers untold opportunities for businesses looking to capitalize upon them.
So, Snapchat for business is not just a future prospect, it's a current reality. How can you get started?
Begin by realizing that every business needs, as Mr. Trillhaas puts it, a camera strategy. With graphics vastly outpacing text-based content on social media, video and images have never been more important.
Snapchat can also be unrefined – and that's okay! That's sometimes part of the charm. Snapchat, for business anyway, gives your company the opportunity to put its best face forward and show the world that you're a relatable, human entity.
Couple that with the fascinating new ways that AR tech is changing this powerful commercial platform, there is a lot of room for creativity!
"Innovation is not a choice, it's a must. Be a positive disruptor." - Götz Trillhaas
The world of business had best take heed.