Facelift, The Best Social Media Management Solution According To The Electronic Business Group!
Posted at 9 of April, 2018
Back to Blog
The Digital Benchmark: New Platform For Benchmarking Digital Solutions Benchmark
Created in 1998, the Electronic Business Group has gradually established itself as the reference think-tank on the digital innovation market in France. It has over 660 company members and over 160,000 industry professionals.
To launch its new digital solutions comparison platform "The Digital Benchmark", the EBG gathered more than 600 digital professionals during 2 days of conferences in Barcelona, during which the results of the first benchmark was unveiled exclusively to the participants.
Facelift Cloud, our all-in-one social marketing solution, came first in Social Media Management (SMM) solutions ahead of Sprinklr, Hootsuite and Falcon IO, thanks to "a wide range of features and excellent coverage of social networks"!
Scoring Grid And Results
7 themes were defined to compare the participating solutions:
Community Management (20%)
Social Media Publishing (20%)
Content Management (20%)
Campaign Analytics (20%)
Social Customer Care - Social CRM (10%)
Social Analytics (5%)
Social Listening Analytics (5%)
For each of the themes, the number of networks covered, the diversity of features offered but also and above all the feedback / customer opinions were taken into account to assign a score from 0 to 100%.
With A Score Of 48.01% For All Themes Combined, Facelift Comes Out On top!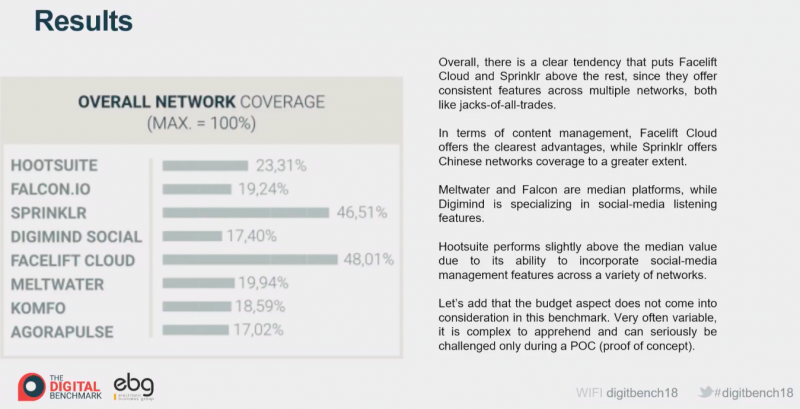 This Is The 3rd Award For Facelift In Less Than One Year:
This is the third award for Facelift Cloud in less than a year, after being distinguished as the most promising social commerce solution in 2017 at the Paris Retail Awards, and rewarded at the Nuit du Commerce Connectée as the best B2B marketing and communication innovation!
Until the detailed benchmark results are available, we would like to thank our customers in particular for the trust they have placed in us so far!
Don't hesitate to contact us to discover the potential of Facelift Cloud!
{{#imageUrl}}
{{/imageUrl}}
{{title}}
{{description}}
{{#tagList}}
#{{name}}
{{/tagList}}
{{readArticleButton}}