Local Facebook pages can be marketed more efficiently
Many companies are represented by subsidiaries in various locations. On Facebook, there is a feature for this called "Locations System", aka "Parent/Child". In simple terms, it is possible to have a "main page" along with multiple "sub-pages" for individual locations or subsidiaries. Many companies make use of this opportunity but are not yet able to target their own Facebook ads to local particularities, for instance.
In order to make the marketing of local subsidiaries and locations more attractive, Facebook has expanded its Locations System to include two new aspects, as follows:
Dynamic Local Awareness Ads
Local Awareness Ads for Facebook Locations has considerably improved and simplified the display of advertisements for companies with multiple subsidiaries. It is now possible to use dynamic content when placing local awareness ads, in order to match the ads to local particularities more effectively – because advertising only works properly if it is really relevant.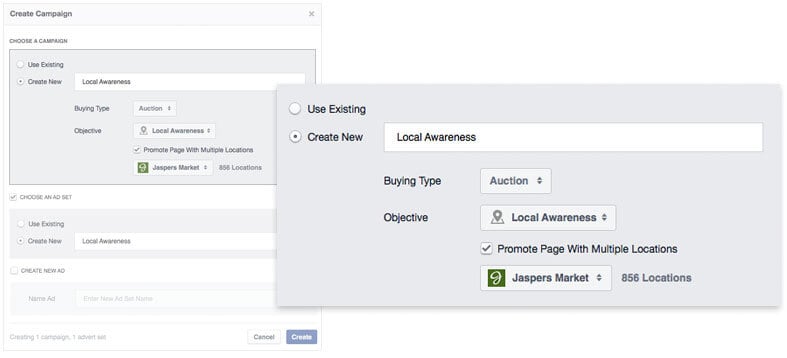 Customized advertising for different subsidiaries and locations
The new features for making local awareness ads dynamic are related to text, links and call-to-action-buttons (e.g. the names of places, streets or telephone numbers). In this way, local awareness ads can be matched with specific local factors and function in a significantly more effective manner.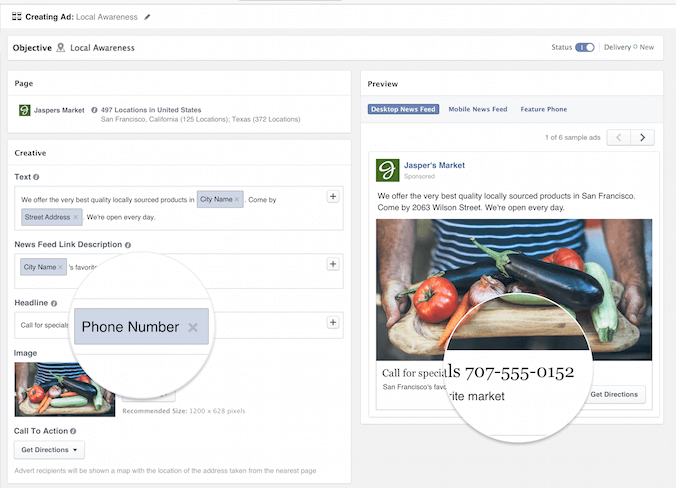 Individual local advertising aspects can be adjusted in detail
The dynamic local awareness ads make both creating Facebook ads and targeting considerably easier. Parent/Child page owners can automatically arrange ads for individual subsidiaries and locations, and adjust them accordingly, thanks to the new dynamization function. The tool is already available via Facebook API and it can soon be used with Power Editor.
Increased knowledge thanks to Local Insights
The second new development refers to statistical values, which are now also available for local Facebook pages. In order to achieve this, Facebook has added a new tab to the usual "Insights" area. This section contains useful information which could come in handy for marketing local Facebook pages.
For example, it can show the days and times when visitor frequency levels are at their highest. This allows you to quickly recognize exactly when your subsidiary or a particular local location is visited the most.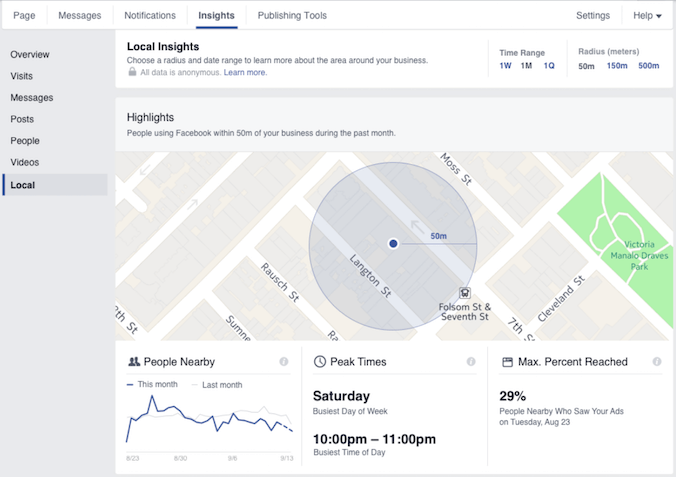 Local Insights sends info and data to Facebook users in the vicinity
Demographic information such as age and gender are also shown. The same applies for general details, such as the geographical radius in which people who access Facebook on their smartphone were notified about one's own business over the last month.
In order for this information to be used effectively, Facebook's Local Insights also shows the volume of people in the immediate vicinity of a location who could potentially see the associated company ad. However, this information can only stem from Facebook users who have allowed for their locations to be shared through their smartphones.
Conclusion
Local Insights is so far only available in the USA and launch dates for Germany, Austria or Switzerland haven't been released yet. Facebook has taken a significant step towards highly efficient local advertising marketing with its Local Insights feature and dynamic Local Awareness Ads. For Facebook Page operators who are subject to the Parent/Child feature, it will be considerably easier to direct the right customers to the most appropriate subsidiaries with relevant advertising in the future – thus minimizing scatter losses. As an advertiser, you will therefore be able to optimize on your Return On Ad Spend (ROAS) in the future too.
Title image: SpeedKingz, Shutterstock.com
Article images: Facebook