Black Friday & Cyber Monday: Social Media Tips
Posted at 18 of November, 2021
Back to Blog
One of the biggest sales opportunities of the year is right around the corner and the dates to remember this month are Friday, November 26th and Monday the 29th.
Black Friday and Cyber Monday.
These iconic shopping dates are no longer just about business - they've taken on a status as unofficial holidays all their own. These days, on which products of all kinds can be found for fractional prices, stir up a buying frenzy of comical proportions.
What is Black Friday?
Traditionally, in the United States, Black Friday marks the first true day of the holiday season, coming one day after the nation's Thanksgiving celebration, which is always the last Thursday of the month. Over the years, the date has spun up globally and companies around the world are now looking for a slice of the apple pie – to make another Thanksgiving reference.
And when we say Black Friday comes "right after", we aren't kidding. It is not uncommon for some stores, particularly large electronics retailers, to open their doors to lines of very chilly shoppers in tents at 3 or 4 in the morning. In 2011, a few major US retailers began their sales at midnight. The following year, some competitors went as early as 8 PM on Thanksgiving.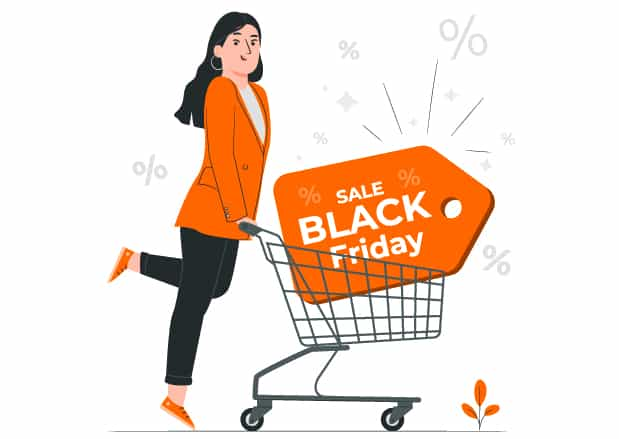 This actually sparked quite a bit of controversy regarding the wellbeing of employees and how they're expected to be ready to work immediately after celebrating the nation's largest secular holiday with family.
And what is Cyber Monday?
Formed as a follow-up to Black Friday, the following Monday has become a chief online sales date. Historically, the focus has been on tech and electronics. This, plus the fact that it's online shopping inspired the use of the word "cyber", but the trend has grown considerably since then and just about any business with an online store can and should take advantage.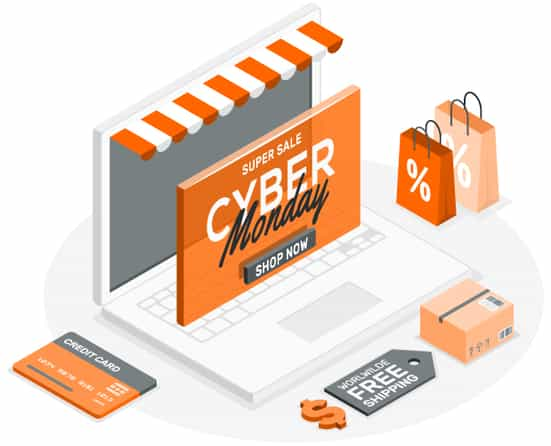 Luckily, this date is considered a bit safer in a literal sense. Fewer shoppers are trampled, or seen fist-fighting one another over the last PS5 as they are just a couple days earlier. This makes the day a heck of a lot more comfortable for shoppers and gives online retailers just the right amount of room to get their products out the door with enough time for orders to arrive before gift giving begins.
Getting in on the action
This year in particular, as the Covid-19 pandemic evolves with the seasons, regulations change, and more and more shoppers become vaccinated, the need for buyers to hit the shelves – and the online shopping cart – will undoubtedly increase over 2020 levels. As such, marketers are looking forward to capitalizing on a big boost in activity.
If your business hasn't yet started taking advantage of these upcoming sales holidays - just days away - it's not too late. We've gone and condensed some best practices for you to implement without further delay!
Your social media teams need to be ready in the run up to these days, as well as during that whole crazy weekend by being well positioned in advance.
Social Media Tips: How to create an effective social media campaign to boost your sales during Black Friday and Cyber Monday
Prep your social networks
In order to announce your participation in Black Friday and to start highlighting your offers and promotions, it is important to keep up to date. Try creating profile banners or other thematic page elements that highlight your upcoming offers.
This is an opportunity to change your Instagram bio, alter your profile pictures, and coordinate everything across all your social networks. You can also publish a post or two and then pin them at the top of your feed on platforms such as Facebook and Twitter to announce the best upcoming deals.
Create a sense of urgency
By definition, Black Friday lasts only 24 hours, and naturally creates a sense of urgency. The use of CTAs allows you to accentuate this feeling of FOMO even more. For example, you can use terms like:
"Order Now", "Sign Up Now", or "Limited Offer".
Be careful not to overuse them, however, as the effect can be diminished and you'll start to sound repetitive.
There are other ways to stimulate a sense of urgency. For example, you can set up flash sales on specific products for a limited time during the day. Why not set up a countdown on Instagram for even more engagement?
Don't be afraid to get creative!
Research and use the right hashtags
If you're not already taking advantage of hashtags, you're probably missing out big time.
Hashtags are the best way to associate your social media posts with a certain topic and stick it into the most relevant news feeds for your industry and content types. Hashtags are more relevant to certain networks than others. Instagram is the best platform for capitalizing on a wide spread of hashtags, where a post can contain as many as 30 tags. With platforms such as LinkedIn, Twitter, and Facebook, it's best to choose 2-3.
Especially when working with Instagram, be sure to implement a combination of generic hashtags to create a larger spread of your content. It's tougher to compete with these, but the rewards are greater.
Here are some examples of widely used hashtags you can use: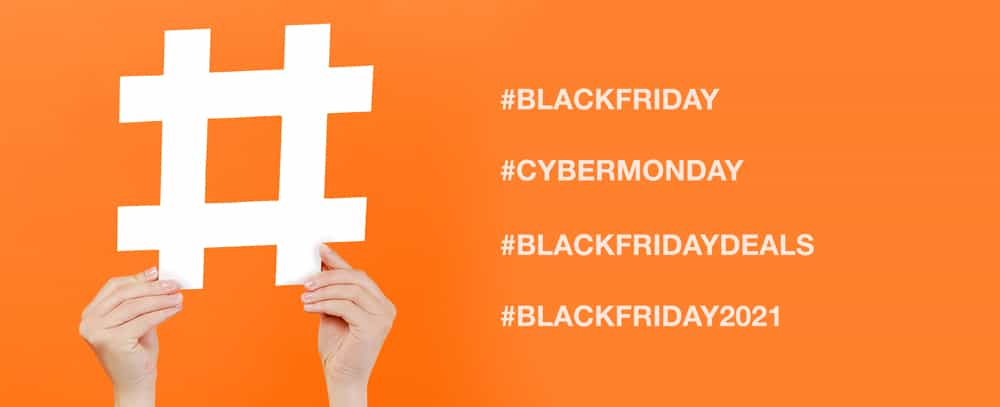 Complement these generic hashtags with others a little more specific to your brand or products. Think about tags with only a few thousand mentions, rather than millions. These more specific tags are less likely to be seen, but more likely to drive engagement or even sales. Think of your hashtagging strategy like investing: you always want to diversify!
On platforms like Instagram, you can easily search for the hashtag #blackfriday to see a spread of similar hashtags being used.
Highlight your offers
Black Friday and Cyber Monday are obviously an opportunity to highlight your offers and promotions. This is a good opportunity because social networks excel in this area. There are several options available to you. Here are some examples:
Create gift guides to help your customers find the perfect gifts for their friends and family members! You can then share the guides on your social networks.

You can also decide to offer free shipping on your customers' orders.

Sweepstakes work extremely well on social networks during sales periods. In addition to creating engagement, it is a way to communicate your latest offers in a fun way to your community.
Capitalize on social commerce
More and more social media platforms are integrating features that allow you to sell your products directly via social networks. For example, on Instagram, the "Instagram Shops" feature or "Shop the Look" on Pinterest allow you to make social networks a digital showcase for your products!
These features are not yet available in all countries, including Germany. Their emergence is, however, on the horizon, and you can read about social commerce in way more detail in one of our recent white papers, downloadable for free right here.
Partner with influencers
Social media influencers are a force to be reckoned with. Popular figures, celebs, and other people of note are some of the most powerful promotion opportunities you're going to find anywhere. So much so that influencer marketing has become a specialization in the industry all its own.
One thing you can try is leveraging user generated content (UGC) from relevant nano-influencers in your social media strategy to promote your Black Friday offers. Nano-influencers are users with between 1,000 and 10,000 followers. While this seems small by some standards, organic shares from a web of smaller influencers can have an equally powerful impact, and costs considerably less.
But, if you have the budget, pursuing big names in your industry can also be well-worth the investment!
Getting a head start
This year, more than in previous years, consumers expect a high-quality, personalized digital experience. As consumers get ready to make their holiday purchases, it is important to guide them down the right path in the run-up to Black Friday and Cyber Monday.
This means planning your posts in advance but also keeping an eye on the interactions of your communities across different social networks. Comments and customer reviews, for example, can give insights into expectations and allow your team to better design and present your offers.
Facelift Cloud allows you to plan and optimize all your content from one central hub. Your team can use its publishing features to schedule posts well in advance across all major social media platforms. If you'd like to get started with Facelift Cloud for free, we've got a two-week free trial that you can take advantage of right now.
With Black Friday still a couple weeks away and the holidays right around the corner, now is 100% the best time to let Facelift Cloud take the wheel. Get started without commitment right here.
{{#imageUrl}}
{{/imageUrl}}
{{title}}
{{description}}
{{#tagList}}
#{{name}}
{{/tagList}}
{{readArticleButton}}