For years, the sales online retailers have been rising: The period around the last weekend in November is becoming increasingly popular: Black Friday and Cyber Monday are also ringing in a unique discount battle on November 23rdand 26ththis year.
According to Eben Sermon (eBay Germany), the entire Christmas business is shifting more and more to November. A survey of online retailers confirms that about 40% of Christmas sales are already made a month earlier these days.
For quite some time, discount campaigns and sweepstakes have also taken place across various social networks. Hence, it is definitely time to get ready for this hot retail phase of the year.
1. Get Your Social Media Profiles Ready
When planning your social media strategy, it is always a good idea to start with your profiles. Make sure that all profile pictures, banners, biographies, descriptions, and links have been updated for Cyber Week for each of your profiles.
Here are some optimisation ideas:
Cover photos are the first thing that strikes your fans when looking at your social media profiles. Create your own for each of your profiles in an effort to promote sales.

Update your biography on Instagram along with your call-to-action buttons to include a direct link to your special Black Friday or Cyber Monday landing page.

Highlight tweets or Facebook posts with the best offers at the top of your timeline.
2.
Plan Your Posts
Timing is everything in this fast-paced social media world. A well-planned post can make the difference between true social media magic and a marketing flop that amounts to nothing but hot air.
Therefore, it is wise to start brainstorming Black Friday or Cyber Monday ideas early and getting your editorial plan ready. After all, the point is for you and your business to be noticed despite the huge mass of special promotions and offers. Hence, it makes sense to think about the best timing and content first to exactly meet the needs of your target audience.
Social media planning and scheduling tools like Facelift Cloud can be an important aid.
Publishing and Moderation: These tools will help you keep all your channels up-to-date with new content at once and achieve the fastest response times when managing comments.

Trend Watching: Provides insights into the hottest trend themes.

Social Analytics: They provide information about the topics, needs, and characteristics of your target audience.

Benchmarking: Keep an eye on the activities and achievements of your competitors.
3. Create #FOMO
The "fear of missing out" (FOMO) has been a very popular catchphrase in the world of social media for quite some time now. Figures show that more than 56% of users are constantly afraid to miss out on an event or offer. Use this knowledge to your advantage and create a natural sense of urgency.
In many cases, it is enough to use the appropriate trigger words. Words like "today" or "now" challenge fans and consumers to act immediately.
Further examples:
Hurry up

Buy now

Limited offer

Save today

Only while supplies last

Today only

One day only
4. Create Helpful Gift and Offer Guides
Selecting the right gifts for friends and family turns into a real challenge every year. Lighten the load for your fans by providing a range of gift guides.
Publish these guides on your own blog or as a guest post on a website with a similar target audience, for example through a cooperation with partners. Use paid Facebook ads to advertise these guides and reach new fans and customers.
5. Prepare Your Customer Service Team
At major shopping events such as Black Friday and right before Christmas, businesses must expect a variety of customer support requests.
Prepare yourself by utilising your best employees during the busiest times. Social media management tools also make it easy to prepare response templates for frequently asked questions.
Facebook, for example, even shows the average reaction time for fans and thus also fuels expectations. On average, many customers do not want to wait more than 15 minutes for a response - even during peak times.
But there is also good news in this: Happy customers like to spend more - and come back!
6. Gathering New Leads and Customer Data Through Microsites
A social microsite is an HTML page aimed at increasing engagement and generating and harnessing qualified user data for your marketing efforts. In Facelift Cloud, such social microsites can first be created without any programming knowledge using a modular principle and then integrated into your own website or Facebook pages. With the world's largest catalogue and more than 50 templates to choose from, hundreds of different marketing campaigns such as advent calendars, voting, coupon deals, or simple sweepstakes are thus possible.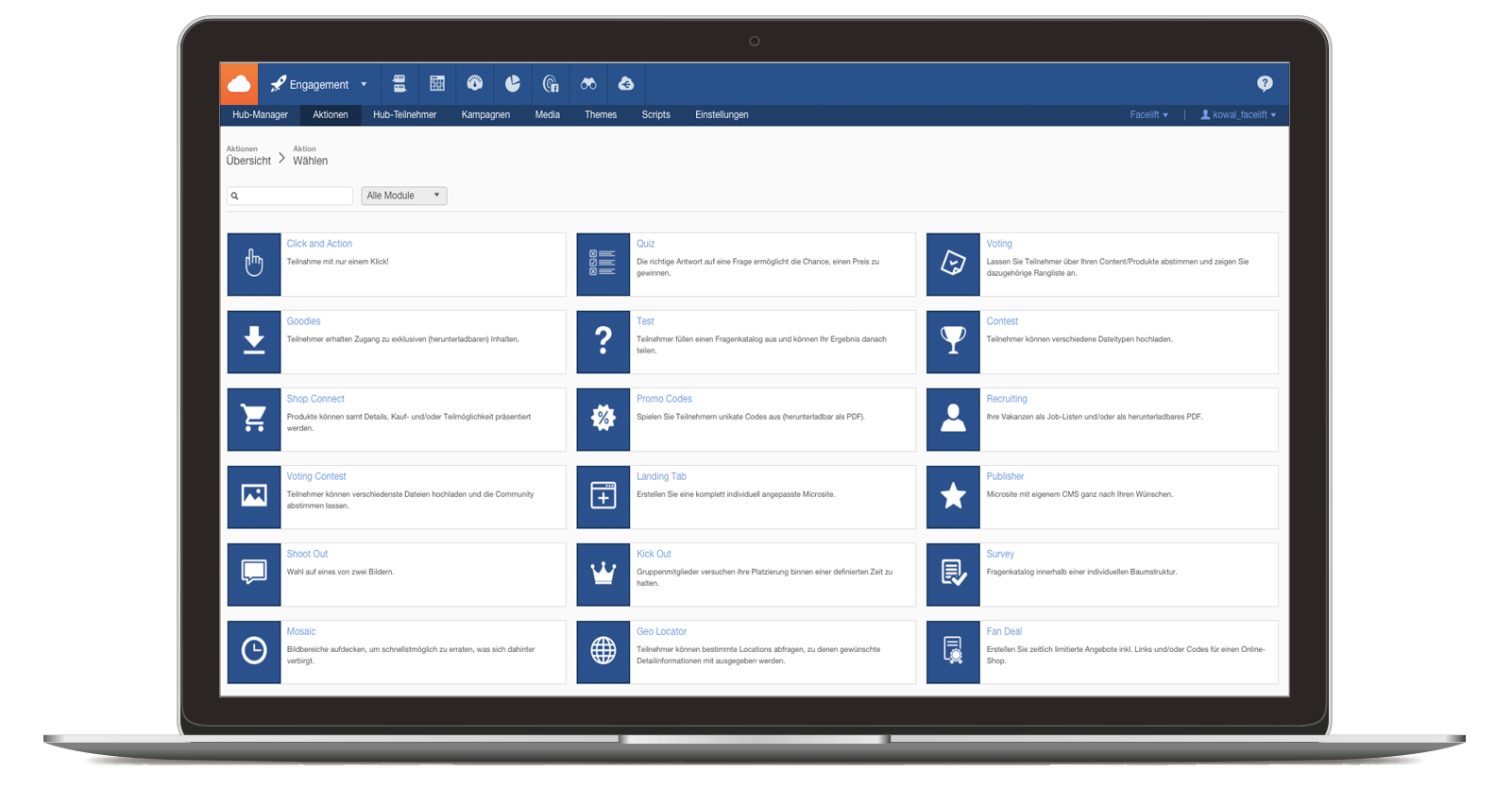 An ideal tool to generate new customer data, which can then be retargeted using Facebook ads.
Did you stumble across this article and aren't yet a Facelift Cloud user? Do you want to be? We've got a free 2 week trial that you can test out. It includes our core features and can provide you with a great overview of what you can expect.