10 Tips and Tricks for Greater Interaction on Instagram
Back to Blog
How to activate your target group on Instagram
No other social network is as geared towards interactivity as Instagram and great photos usually get their first likes and comments after just a few seconds. Unlike other social networks, communicating on Instagram almost exclusively revolves around visual stimuli due to its format. As a publisher, you can of course add text to your images and photos but this ultimately only serves to supplement the content itself and isn't particularly significant.
Likes and comments play a very important role on Instagram, as both types of interaction can also be used to generate more followers for your account. However, in order to ensure that frequent interaction, followed by enhanced coverage, actually takes place, your content, along with the your entire user profile, has to be inviting enough to remain sufficiently active. This article shows you ten tips and tricks to allow you to sustainably increase engagement rates for your Instagram content.
1. Post regularly, preferable daily
Even the best content strategy will not work if you haven't got enough material to publish. You don't have to post many photos on Instagram each day – one photo is ultimately enough if the content is of particularly high quality. Instagram users are used to seeing worthwhile material and if you take a closer look at many of the wide-reach accounts on Instagram, you will discover that the quality of the images is usually excellent.
You should therefore produce for stock and present your content at regular intervals. This doesn't necessarily have to happen on a daily basis but your users will appreciate it if they can be sure that your content is not just published at random.
2. Post content when the most users are online
As you almost certainly already know from other social networks like Facebook, "Social Timing" is a magic phrase! But, when it comes to the crunch, is this common knowledge really common at all? Most probably not, as taking a closer look at content, including on Instagram, suggests otherwise i.e. that by no means every publisher places emphasis on it. As a consequence, high-quality content is published, but doesn't become available to the optimal number of potentially interactive users.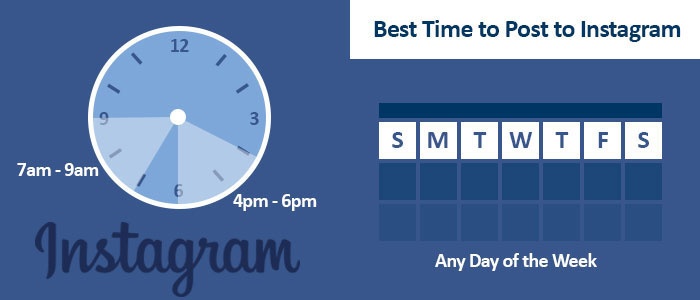 Discover exactly when you can reach the most users on Instagram
The Instagram News Feed is arranged chronologically – just like on Twitter. Therefore, if you post your content at inappropriate times it won't be seen by many users and untapped potential will be lost as a result. So build your Instagram strategy in such a way that you always consider the right moment to publish your content. You can quickly determine precisely which times these are by performing some tests and acting accordingly.
3. Prompt specific call-to-action in your posts
Would you ever build a landing page where no clear and unambiguous call-to-action response is elicited? Probably not. Then why is it that so many social media posts – particularly those on Instagram – do not prompt active responses? The point is that the majority of users react to these kinds of "instructions". Not everybody does exactly what you, as a publisher, expect, but you still shouldn't underestimate the number who do.
It's therefore certainly not a bad idea to include call-to-action such as "double tap, if you like the photo" or "tag a friend who could like this photo in the comments section" when you post your photos on Instagram. You can find out exactly how successful such measures are by assessing their impact. If engagement rates increase, you are on the right track and you should try to intensify and develop the principle further.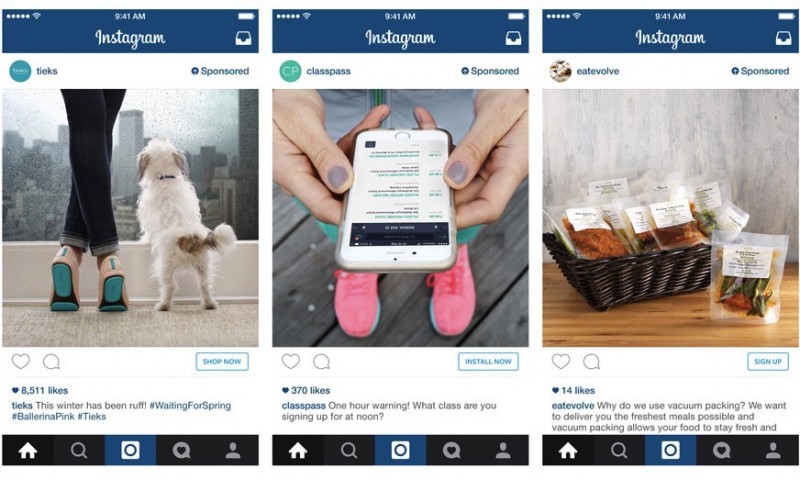 Specific call-to-action works very well on Instagram
4. Re-post particularly popular content
As part of your analysis, you should also check which content is the most popular in general. You can easily find out this information by looking at the number of likes and comments the individual posts have generated. Posting regularly and at a similar or the same times (see above!), ensures you have a solid basis on which to compare your success rates.
You will no doubt realise through your comparisons that certain types of content work better than others. This is precisely the type of content you should increasingly publish i.e. supplying your target group with exactly what they apparently need. In this way, you can achieve the highest engagement rates from your content while simultaneously and effectively positioning yourself, which is another factor that Instagram users really appreciate.
5. Use a special hashtag for your brand
Major brands and internationally operating corporations are not the only ones who have the "right" to use hashtags. You can also work this stylistic tool in exactly the same way! Even if you are only just starting out with your Instagram activities, working with hashtags is recommended.
Branding yourself by using a hashtag not only ensures that your content is more associated to you as a publisher. It also means that you are able to monitor which content has already been posted much more effectively, and find out if a particularly good photo of yours has been shared on Instagram via third parties, for instance. Using a hashtag ultimately makes a positive contribution to your brand and if you are tagged by others on Instagram, this method can ensure that you are recognised more intensively.
6. Identify which trending hashtags are attracting the most attention
On Instagram, as with other networks, certain content on particular topics is repeated more often than others over a certain period of time. Hashtags are also usually associated with this content, enabling individual hashtags to be used more frequently. You can identify these specific hashtags and use them yourself – if the topics are good matches with your content.
This allows you to reach more users on Instagram and usually to generate more interaction at the same time. This is because content with popular hashtags remains in focus and is seen by more users – and, in turn, quantitative distribution is more wide spread, which is also ultimately relevant for your content!
7. Locate the best hashtags in your own niches and use them
The same principle applies to hashtags which are fundamentally popular in your niche. On Instagram, some hashtags are frequently always used and they are therefore also adopted by a great many publishers. This strategy may initially seem appealing but more benefit can be achieved, for both you and your topic, if you primarily use hashtags which best relate to and describe each post.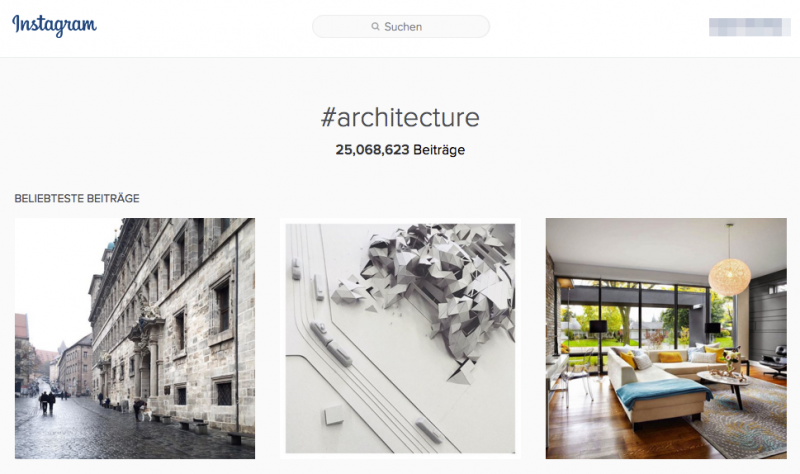 Hashtag searches on Instagram
It is also worth using the "successful" hashtags which are best suited to your topic area, thanks to so-called "evergreens", i.e. hashtags which consistently work well. For example: photos and images on Instagram which depict impressive buildings often use hashtags such as "architecture" or "architecturelovers". These hashtags are effective and ensure that your content always reaches the right target groups by way of hashtag searches on Instagram. This increases engagement rates for your content and is often a way of attracting new followers from your chosen topic area too.
8. Analyse your most successful posts and make use of the findings
In addition to the content itself, the structure of your posts also plays a role. Interaction levels are higher with photos and images which are set against bright backgrounds, whereas content with dark backgrounds does not work as well, for instance. The same applies to images and photos with low saturation.
Instagram users love high-quality images and photos which are colourful and unique. However, make sure that your content doesn't appear unnatural, especially when editing your images with Instagram's built-in applications (e.g. filters), as that is not as well received. The colours themselves are also significant: cool colours such as blue are clearly preferred and you should take this fact into consideration when choosing your content.
9. Interact with your followers and other instagrammers
In order to boost engagement rates for your content, it is definitely also worth being active yourself. One of the most important rules: if you get feedback on your content in the form of comments, you should thank the contributor for it. This doesn't have to be an elaborate and extravagant text – just keep your reply simple and concise and thank each user who has shared their opinion with you.
In addition to your own followers, as precisely the people who receive your content and who, therefore, ensure that your engagement rate increases, you should also target Instagram users, who also share good content. Contact these people, "like" their photos and make positive comments on their content… if, of course, you approve of their content. The result? Not only will the owners of this material become aware of you, rather you will also have an effect on the people who read the comments on these posts. Additionally, through the use of the appropriate hashtags in your comments, you can increase the possibility that even more of the right users become aware of you and your content.
10. Make sure yours is a top quality profile...with all the frills!
External links are a rare commodity on Instagram, but you can nevertheless use your account to generate traffic for your website. Although it is possible to list a website address in posts and comments, active i.e. clickable links are not. The only link which works is in your profile, where you can indicate a landing page. However, this link is only a part of your Instagram profile as a whole.
As is the case with other social networks, your profile picture basically acts like a type of business card. To that end, make sure you use an image or photo that visually supports you or your company and ideally stands out from the rest of the Instagram profile crowd (at least in your niche anyway). The same applies for the description. You don't have that much space, so keep it short, sweet and to the point. The purpose of your Instagram account should be clear and users should be able to easily find out what they can expect in following you.
Title image: BigLike Images, Shutterstock.com
{{#imageUrl}}
{{/imageUrl}}
{{title}}
{{description}}
{{#tagList}}
#{{name}}
{{/tagList}}
{{readArticleButton}}